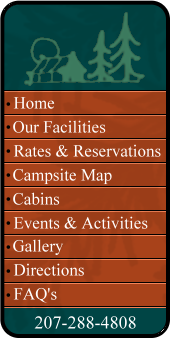 Please call or write for reservations or information.



Check out our new guest guide!


FAQ's (frequently asked questions)

Q: Do you allow dogs?
A: We welcome your well-behaved pet, but to ensure the enjoyment of all of our guests we require several things:
1. They must be kept on a leash at all times.
2. You must clean up after them.
3. They can never be left unattended. We understand that your dog would never bark when left alone in your camper, but other people's dogs do and if we show favoritism to you, we'll be in hot water with everyone else. We're happy to provide the name of a great local kennel that offers "day care" for your pet if you need it.

Q: What are your campsites like?
A: Each site is different. We offer wooded or grassy sites, each with its own fireplace and picnic table. Some of our campsites offer full hook-ups (electric, water, and sewer on site), some have just electric and water, and others have no hookups. When you call to make your reservation, tell us what you have in mind. Based on availability and the size of your tent or trailer, we'll find you the best we have. (20, 30 and 50 amp electric service is available--please specify what you need.) 

Q: Does the campground enforce quiet hours?
A: Yes. Quiet hours are from 10:00 PM to 7:00 AM and are strictly enforced. 10 pm is for the sake of all the parents who understand the horror of a child waking up at night. 7 am is for the sake of all the people who are camping without children and therefore have no compelling reason to get up at 5 am. Staff is onsite and available 24 hours a day to address any problems.

Q: What do you sell in your store?
A: Firewood, ice, essential camping supplies, LP gas, some grocery items, toiletries, candy, ice cream, postcards, Hadley's Point sweatshirts, tee-shirts, and hats. And we can't forget our most popular item: hot coffee!

Q: What are "metered showers"?
A: A hot shower at our campground will cost you 50 cents for every seven minutes. All of our showers are coin operated. The reason we charge for our showers is not to nickel and dime you, but to conserve the valuable resource of our water while also keeping our heating costs low. It would be unfortunate to have to increase our rates to make up the cost of hot water or have you show up for a reservation only to discover that our well has run dry!

Q: Can you see the water from your campground?
A: Unfortunately, you can't see the water, but you can walk to it! Hadley's Point Beach is only a quarter of a mile down a quiet road. It offers picnic tables, barbecue pits, and a public boat launch. If you're not up for walking the rather steep hill on the way back to the campground, you can also drive to the beach.

Q: Is there an age requirement for renting a campsite or cabin?
A: Yes, you must be 21 years old or older to rent a campsite or a cabin. ID will be required at checkin and registered adult must be present for duration of the stay.

Q: Do you have WiFi?
A: Yes, we have free WiFi that now reaches all camping areas.

Q: What is a Honey Wagon?
A: A honey wagon is a portable dump station of sorts. We have a limited number of full hookup sites, so if you are not on one of those sites and your trailer or motor home requires the gray or black water tanks to be emptied during your stay, we can come to you and take care of it. There is a fee for this service. Please call or inquire at the office for more details.

Q: Can we bring our own firewood?
A: It depends. If you've purchased or cut down your own wood in Maine, you are welcome to bring it. If it comes from out of state, you need to leave it at home. Sorry folks, this isn't our rule; it's a state law aimed at keeping our forests safe from insects and diseases that aren't native to Maine. We do sell firewood in our store.

Q: Do you allow seasonal rentals?
A: We have a few campsites which we rent seasonally, but they fill up quickly. If you're interested in a seasonal rental, please call to check availability or to be placed on our waiting list.

Q: Can I set up a tent on my site with my camper?
A: No.We only allow 1 camping unit per site. No tents to be set up on a site occupied by an MH, trailer, pop-up, Conversion Van or in our Cabin area. This also includes no sleeping vans or trailers in the cabin area. This is to minimize overcrowding as well as protect our resources here on the campground. We understand that you may have family members joining you that you would like to have set up a tent on your site, however, we keep our rates very reasonable so they can still set up a tent nearby, yet have their own campsite.